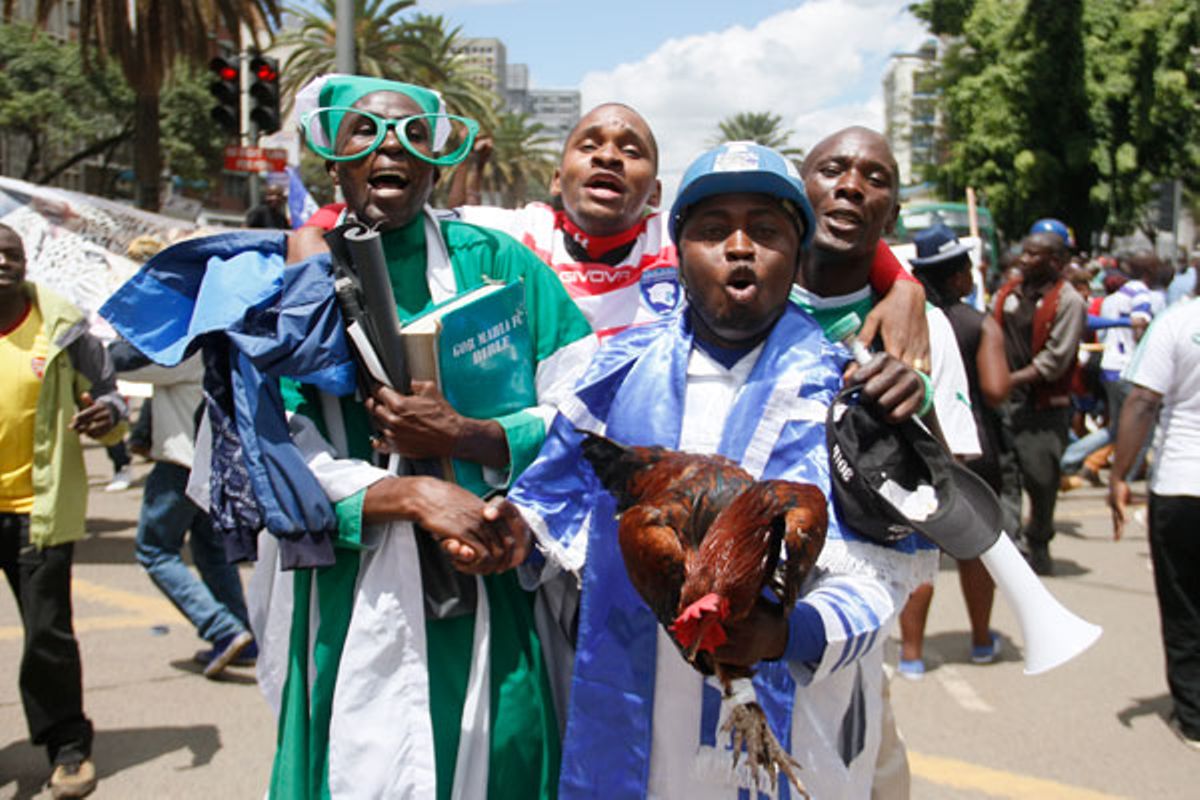 Uncertainty continues to reign over the fate of the Kenya Premier League with a number of Clubs struggling financially.
The exit of betting firm Sportpesa from the Kenyan Market has had a huge impact on Sports in the Country with the most affected being Football.
Sportpesa were the sole sponsors of the Kenya Premier League and also pumped in money to two of KPL biggest Clubs in Gor Mahia and AFC Leopards.
According to reports, Sportpesa spent Sh96 million annually on direct sponsorship of KPL and Sh55 million on AFC Leopards while Gor Mahia got Sh65 million.
The exit of the firm is not just being felt by Gor Mahia and AFC Leopards. A number of teams are also in financial turmoil and have already petitioned KPL to suspend the League until the current financial crisis is properly dealt with.
Well, this is understandable given the fact that some of these teams do not even have a sponsor to start with while others with sponsors like Sony Sugar are still struggling to make ends meet.
For Starters, Gor Mahia, AFC Leopards, Kisumu All Stars, Zoo FC and Kakamega Homeboyz do not have a sponsor.
Such teams have had to come up with different ways and means to raise funds to help in the day to day running of the club.
Gor and Leopards have been forced to come up with Paybill numbers to help solicit for funds from fans. The two teams have also been organizing fundraisers to raise funds but even these efforts seem not to yield much as the teams still owe players and staff salaries running to months.
Gor Mahia has also had to struggle to honour it's continental assignments due to little flow of Cash to the Club.
Clubs like Bandari FC, Wazito FC, Tusker FC and Kariobangi Sharks seem to be having a smooth ride in their camps as players from the teams have not yet complained of delayed salaries.
As for Sony Sugar, despite having a sponsor in the form of South Nyanza Sugar Company, challenges have become it's second name. The Millers became the first team this season to hand in a walkover in their own backyard of Awendo. Their KPL match against AFC Leopards was not played and with that, Ingwe got an easy 3 points and three goals.
The Sponsorship of KPL Clubs in the Country consists of Gaming Firms (Mozzart Bet, Betika), Government Parastatals and entities (Kenya Ports Authority, KDF, Kenya Power, Postal Corporation of Kenya),Financial Firms (KCB Bank, Aidos Kuneen, Ganji Payments Limited) , Sugar entities (Chemelil Sugar, Nzoia Sugar, Sony Sugar), Beverages Industry (Tusker)
BELOW ARE THE SPONSORSHIP DETAILS OF ALL KPL CLUBS
NEVER ENDING CHALLENGES
With all the challenges that have engulfed the various Clubs in the Country, it is time stakeholders found a solution to help save the beautiful game.
Last week saw Kakamega Homeboyz through Chairman Bernard Shitiabayi call on KPL to suspend the League, a call that was supported by Five Clubs including those that have got sponsors.
The Clubs are: Chemelil Sugar, Sony Sugar, Nzoia Sugar, Mathare United, Kariobangi Sharks and Kisumu AllStars.
The Clubs want the KPL to convene a special Governing Council meeting to discuss the way forward.
The ball is now in KPL's court. It is time to act to save the beautiful game as even the clubs with sponsors are still struggling to make ends completely meet.
It is also worth noting that the National Super League, NSL also has it's challenges with the withdrawal of Bamba Sports even making things worse for Kenya's second tier League.
Who will Save Kenyan Football?