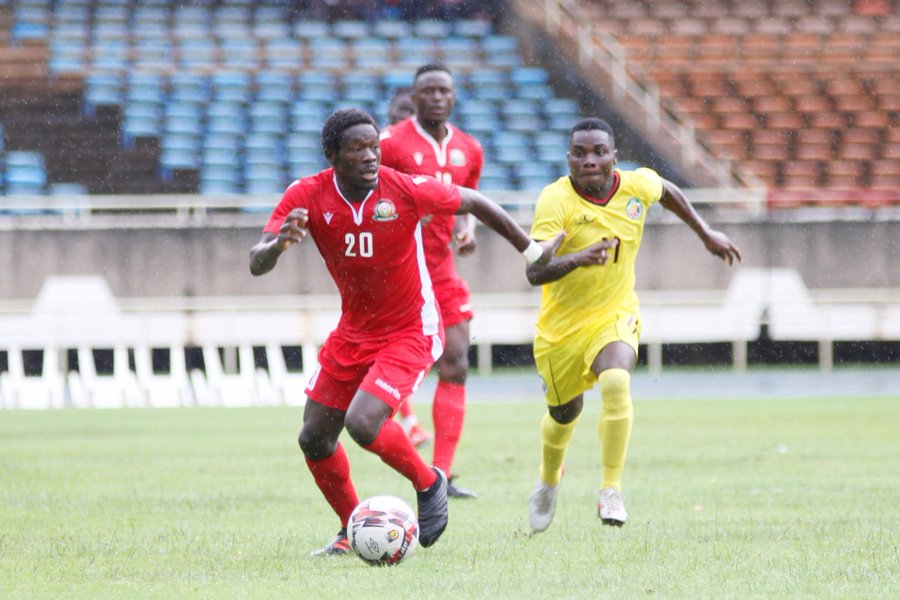 The Kenya National team, Harambee stars, had a bad day in office, as they lost to Mozambique 1-0, in the friendly played today at the MISC Kasarani.
The first half was rather subtle as the players were learning their opponents strengths and analysing the opponents weaknesses. Harambee Stars forwards, made several attempts to bag a goal but the odds seemed not to be in their favor.
The second half brought with it changes as the Mozambique side substituted at the 67th and 88th minute as Harambee Stars substituted at the 52nd and 77th minute.
The second half showed the true colors of the players as both teams were hungry for goals. However, the Mozambique forward,Quembo Witiness, maneuvered a goal at the 70th minute giving his team an upper hand.
Harambee Stars Starting XI
1. Faruk Shikalo, 2. Samuel Olwande, 3. Eric Ouma, 15. Joseph Okumu, 4. Joash Onyango, 12. Victor Wanyama, 13. Lawrence Juma, 10. Kenneth Muguna, 16. Cliff Nyakeya (17. Jesse Were 77′) 11. Cliffton Miheso (8. Duke Abuya 52′)14. Michael Olunga
Substitutes
18. Ian Otieno, 23. Timothy Odhiambo, 5. Harun Shakava, 20. Yusuf Mainge, 6 Teddy Akumu, 19. Hillary Wandera, 7.Whyvonne Isuza, 21. Abdallah Hassan, 8. Duke Abuya, 9. Enosh Ochieng, 22. Bernard Ochieng,
Mozambique Starting XI
12. Julio Pedro Frenque ,7. Pelembe Elias Gaspar ( 2. Matola Infren 88′) 4. Mussagi Sidique, 14. Muchanga Francisco, 3. Junior Zainadine, 8. Edmilson Gabriel (15. Canhembe Amancio 67′) 16. Ernesto Mercelino, 6. Kambala Manuel, 19. Quembo Witiness, 11. Miquissone Luis Jose, 9. Reginaldo Fait Artur (13. Ferandes Manuel 67′)
Substitutes
1. Ventura Jose, 2. Matola Infren, 10. Mussage Papaito ,17. Mandava Reinildo ,15. Canhembe Amancio ,18. Cumbane Kama-Kamo, 20. Catamo Grny Cipriano, 13. Ferandes Manuel.