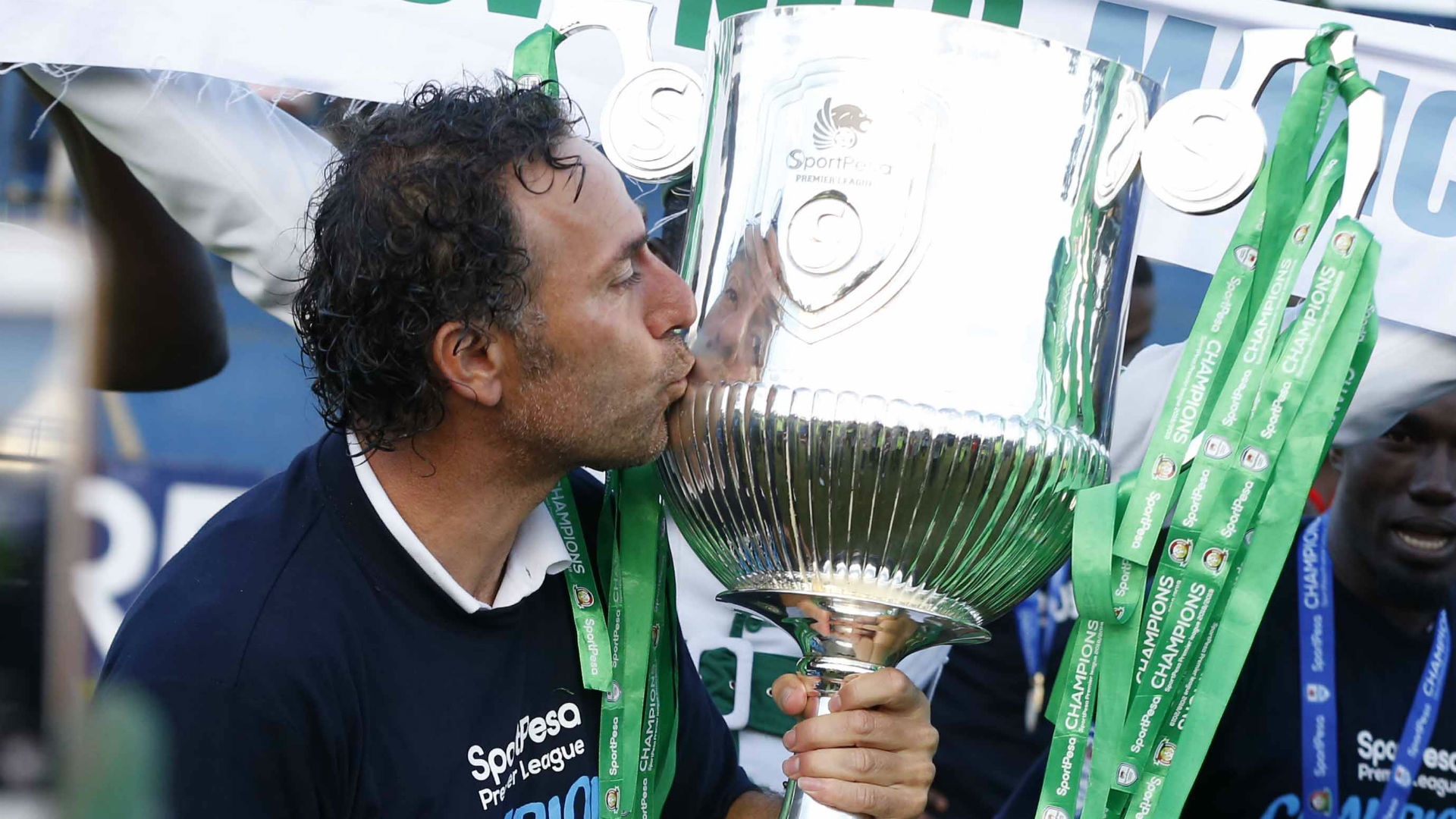 Will Gor Mahia coach Hassan Oktay return to the Club? This is the question a number of Gor Mahia fans are asking after it emerged that the Turkish Cypriot was flying out of the country to go attend to some family issues.
Coach Oktay is not sure whether he will come back to Kogallo and has even made it clear that should he fail to deal with whatever issues he has back home on time, he will write to Gor Mahia chairman Ambrose Rachier to initiate the search for a new Coach.
Despite his apparent exit from the club, an exit no party is yet to confirm, coach Oktay has assured Gor Mahia faithfuls that the club will always be dear to him.
The Coach is also upbeat that the current crop of players have all that it takes to shine both locally and internationally in the CAF competitions.
Oktay has also revealed that despite having had coaching stints in Turkey and Saudi Arabia, his stint at Gor Mahia will forever remain special to him.
"I have coached in Turkey and won the league title there, also coached in Saudi Arabia and now Kenya with Gor Mahia, I will always respect Gor Mahia of all the teams I have handled in my career," Said Oktay as quoted by Goal.
"You want me to talk bad about Gor Mahia, I cannot. I just cannot, they are the best club I have ever handled in my entire career and will always keep track with what they are doing even if I don't return from my leave," he added.
Oktay also revealed his admiration for the Gor Mahia management led by Chairman Ambrose Rachier who he lauded for his dedication in the running of the club.
The coach has also maintained that he is not running away from his responsibilities as a headcoach.
The KPL winning coach has stated that he cannot give his all to Kogallo at the moment given the grave nature of the issues affecting him back home.
"I am not running away from duty, I only have a few problems which I must sort back home, they have unsettled me and I cannot think.
"I am not discharging my duties the way I would love to and until I sort out the mess back home, then I will have to stay away," Oktay told Goal.
Oktay has predicted a productive season for Gor Mahia and has even praised the new signings made by the Club.
There have been claims that Oktay was not happy with Gor Mahia's latest acquisitions. He has rubbished such claims and insisted that the Club gave him what he wanted.
The Coach has said that Gor Mahia will not only win the Kenya Premier League again but that they will also have a great run in the continental competitions.
"Gor Mahia have the best team so far as we head into the new season. We have signed a top-class goalkeeper, and two great strikers plus a winger. Those were the areas I was looking to beef up and the office has helped me to do the same.
"Look, Gor Mahia will shine in Caf Champions League, with or without me they have a great squad and a very good assistant coach. They are looking good in all aspects and I am sure they will win the league again."
Gor Mahia will begin their Champions League journey against Aigle Noir CS who bagged the 2018/19 Burundi Premier League title with 68 points from 30 matches. The aggregate winner of the first round will meet either USM Algers of Algeria or Niger's SONIDEP in the second round.